Here it is!
Our album "Polly & the Fine Feathers" will be out in Germany, on Solaris Empire Records, on January 24th.
For our German friends, we have set up a special tracklist with a previously unreleased bonus song.
For the time of her third album, the French folkster Pollyanna switches her name to "Polly & the Fine Feathers", focusing on the trio that gave life to these 12 songs. Indeed, this new record was born from her meeting with two Paris jazzmen: Abdesslem Gherbi and François Fuchs.
Abdesslem is an funk and New-Orleans drummer, familiar with American jazz clubs. He also teaches Gamelan at the Paris "Cité de la Musique". François Fuchs is an omnivorous doublebassist who loves to play anything from the Cramps to free jazz, soul (Kimberose) or edgy Turkish traditional music.
"Fine Feathers make fine birds" is an English proverb. Pollyanna wanted, with these two gentlemen, to dress her songs up in country-bluesy colours, reminiscent of Jolie Holland or classics like Patsy Cline. Most of these songs have been written on the road, while touring in Tennessee folk clubs.
The album also takes steps sideways to traditional musics. The trio's inspiration sails across oceans, cultures and ages. They have a warm and nostalgic sound, enlighted here and there by a flitting violin, delicate horns or a musical saw. All this actually brings details to Pollyanna's sincere and heartwarming songwriting, with combines a pop sense of melodies and carefully crafted lyrics. English, which is the language of tourism, business and social networks, is for her an endless source of images she loves to play with, both light and deep.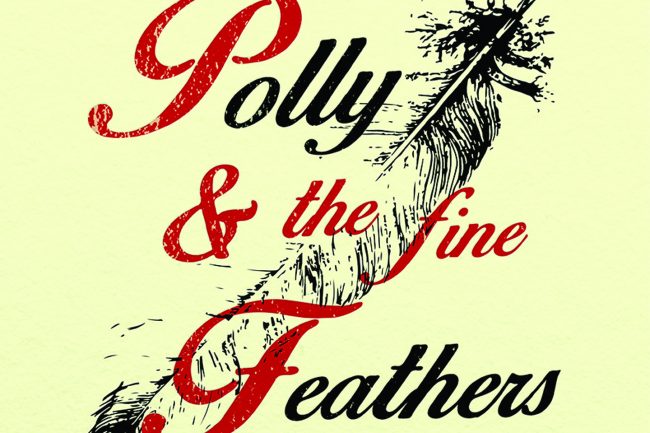 She has previously released a more indie-rock album, "The Mainland", also on Solaris Empire, in 2016, critically acclaimed on both sides of the Rhine. Since then, Pollyanna has been playing hundreds of shows in Germany, in clubs or festivals, but also in living rooms. There, she met a crowd of « ordinary » citizens, outside the music business highways : electricians, actors, car engineers, teachers, refugees, students, psychologists, patients in hospitals or at home, disabled or not, alternative youngsters living in the woods with no money and no passport, local politicians and even sex workers. A unique take on contemporary Germany, also very typical : Pollyanna easily fits in the DIY grassroot tide that overwhelms music in the 21st century.
This journey connects her with her former job (journalism) and the great tradition of travelling singer-songwriters (Woodie Guthrie and Dylan's children). Thanks to an amazing voice and a solid guitar, she can display her songs in solo or with a band with equal intensity. So, even if she likes to tour with a light set, on her records, she takes a chance to expand her musical landscapes far beyond the simple « guitar and vocals » thing. She surrounds herself with the nicest musicians she meets on the road to write, with each album, a human adventure, and build up a unique sound mood. « Recording with Pollyanna is like going on a field trip ! », her violist once said. Get on board with them !